TRANSFORM YOUR BORING ROOM INTO A COLORFUL AND VIBRANT PLACE 
Want to create a warm and pleasant ambiance for you and your kids in the bedroom? Are you that adult who has trouble falling asleep or to relax after a day of hard work?
Looking for something to brighten up your room? Are you a cat lover? Is your baby afraid of the dark at night?
Introducing an innovative and creative night light lamp in the shape of a cat. Here is a lovely kitty smiling face lamp that can take your mind off any problems when you see it!
The lamp emits 7 different color that fits your kids, the lights are regular and soft and are not a strong glow for those who want a nice calming light at night. It would be a great addition to your bedroom, baby room, which can also be used as night decor as well.
This colorful light is not only for lighting purposes but also helps to stimulate the baby's color perception and promotes the baby's visual development.
Make your room so inviting and perfect for bedtime stories and sleeping. Just a slight tap, the cute cat night light will light up! 
Key Features:
ENVIRONMENT SAFE: The night light lamp is made using high-quality, fine, and soft silicone and other environmentally friendly materials to keep it safe for the earth and human, also to provide longer life
7 COLOR LIGHTS: This lamp emits 7 different colorful lights, which can be adjusted as you like by gently tapping it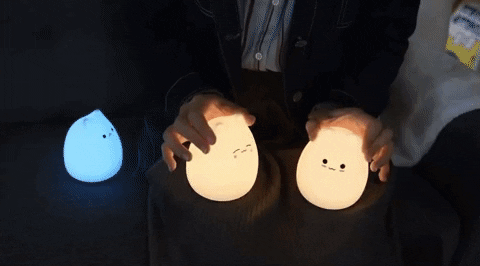 DESIGN DETAILS: The lamp is powered by 3 AAA batteries with one-button control and measures 90*89*102 in size (BATTERY IS NOT INCLUDED IN THE PACKAGE)
EMITS PERFECT LIGHT: With soft and mild light, it keeps your beloved one's company as a tender guardian all night long
FOR ANY ROOM: Add this cute cat light to any room such as bedroom, baby's room, party, living room, guest room, etc to create a pleasant atmosphere
PORTABLE: It can be carried anywhere, anytime with you, thanks to its compact and lightweight design
SAFE TO USE: With no dangerous or toxic material and sharp edges, you do not worry about this will hurt your children!
Instructions

Measurements 
Package Includes:
Frequently Asked Questions:

Q: Would this light illuminate a room softly?
A: Yes, it would  


Q: Is there a timer mode to have light turn on a certain time of day?
A: No, it features a pretty simple design  


Q: Does one have to tap it each time to change colors?
A: Yes, you have to  


Q: Is it waterproof?
A: No, it is not a waterproof product