Multifunctional Lightweight Baby Stroller
CARRY YOUR BABY OUTSIDE WITH A WONDERFUL FOUR-WHEELER STROLLER CART
Strollers and carts are of quick help for parents who wish to carry their babies to different places in the outdoors. Starting from newborns to a year old baby, there are various stroller options that you can look into.
Mostly the carts have four wheels to support the weight properly.  If you are buying a cart for the newborns, you have to ensure that the seat has a bassinet structure for holding the baby while you will be pulling or pushing the cart around.
Now, choosing the perfect baby stroller can be a real challenge, especially if you aren't aware of the products and still want to buy the best one.

However, with this particular four-wheeler baby stroller, you won't have to worry about a single thing. The features of the stroller are quite commendable, and as a parent, we know you will love it.

Key features:
COMFORTABLE SEAT: If you are worried about the bassinet seat of the stroller, you can now relax since this particular four-wheeled cart has an excellent seat for the babies.
Made from high-quality material, the seat will be able to support your baby for as long as you are staying out. It also has back support reaching till the neck for newborns who can't sit straight on their own.
FULL CANOPY COVER: The cart comes with an inbuilt canopy cover, which is made from high-quality material to provide the best comfort to the baby.
The canopy can be pulled in front to ensure that the sun rays are blocked from your baby's face if you are going out during the day time. Again, if you think that the air is windy and gentle, you can push back the canopy.
STROLLER LOCKING MECHANISM: When you stop for some rest, you don't have to hold the cart to keep it in place anymore. This product comes with an inbuilt locking mechanism.
Once you switch it on, the mechanism will lock the stroller and the wheels, thereby preventing it from moving even by a single meter.
LIGHTWEIGHT: The cart is extremely light, and hence you can easily maneuver it around without having to exercise a lot. Even after you will place your baby in the stroller, it wouldn't become too heavy for you to move.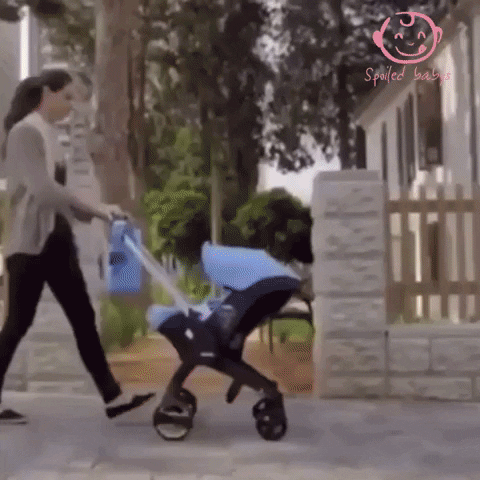 EASILY FOLDABLE: One of the major concerns of new parents at the time of buying a stroller cart is about its storage.
Most of the carts are humongous in size, thanks to all the additional compartments, and hence, it's quite difficult to store them. However, this stroller can be folded into an umbrella-styled structure, which is indeed quite thin and compact in shape.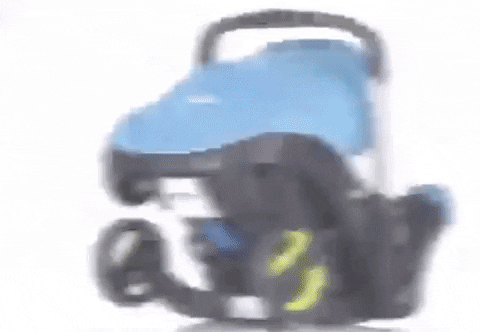 Instructions
Measurements
Package includes:
 Baby Strolling Cart and Car Seat
Specifications:
Suitable age: 1-3 years old
Material: aluminum alloy (breathable)
Including canopy cover
Weight: 7 kg/15 lb
Orthopedically shaped insert pillow
Double side protection

Car seat with integrated wheels

Measurements car seat: 60 x 44 x 66 cm / 23,62 x 17,32 x 25,98 in
Measurements stroller: 82 x 44 x 99 cm / 32,28 x 17,32 x 38,98 in
Frequently asked questions:
Q: What will happen if my baby leans in forward and slip?
A: There is a front barricade guard which will prevent your baby from slipping in the forward direction.
Q: Are there any extra pockets with the stroller?
A: No, the presence of extra pockets simply makes the cart's structure heavier. So, this particular product does not have any such compartments.
Great
Really with this product!
Perfect
only 1 word to describe this product, and perfect is the one.
Great
Really with this product!
Perfect
only 1 word to describe this product, and perfect is the one.