Folding Diaper Changing Pad
EFFORTLESSLY CHANGE YOUR BABY'S DIAPER WHILE ON THE GO OR HOME!
Now parents are busy, trying to balance work and home life, do some shopping, keep their baby close, and handle all the responsibilities.
That means you don't always have time to lug around a big, bulky changing table or wipe down everything in the public bathroom, just so you can change your baby.
Part of a parent's job description is being able to change your little one's diaper, anytime, anyplace. Now you can relax! We got you covered in any of your baby's diaper emergencies with our amazing product - Diaper Changing Pad Bag!
A stylish and compact accessory that includes everything you need to comfortably and hygienically change your baby's diaper no matter where you are.
Change the diaper easily and quickly just lay your baby down, get them cleaned up, and stay on the go with little mess and far less stress! Keep your baby clean, healthy, and hygienic, and be ready on the go! 
Key Features:
PERFECT TRAVEL ACCESSORY FOR PARENTS: Our changing pads provide a soft, supportive, clean space to change your baby's diaper or clothes, or take a short nap.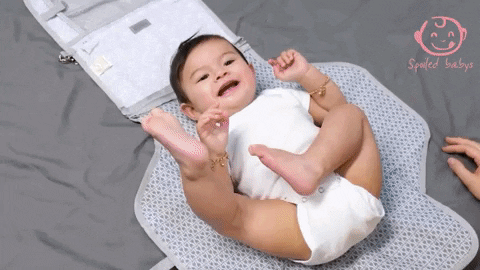 PREMIUM QUALITY: The diaper changing bag is constructed using cotton, TPE and waterproof cloth that is free from lead, BPA, phthalates, ensuring safe use
HEAD CUSHION:  It has a built-in head cushion that is extremely soft and provides maximum comfort and protection for your baby's head.
POCKETS: Inside the changing mat you'll find compact pockets for storing baby essentials like diapers, wipes, pacifiers, and burp cloths.
EASY CARRYING: It features a built-in carry handle, long, adjustable shoulder strap, and wrist/stroller strap for convenience and easy carrying.
TRAVEL FRIENDLY: It can easily be folded to clutch size and is lightweight to make you travel more relaxed and enjoyable with your little ones.
EASY TO CLEAN:  The premium material of our diaper bag repels liquids and can be easily wiped clean. 
Measurements
Details
Package Includes:
1 x Folding Diaper Changing Pad
Specification:
Material: Cotton + 

TPE  + sponge Inside is waterproof cloth, easy to wipe and clean
Frequently asked questions:
Q: How big is this changing pad?
A: When the bag is opened up for use its length is 37.5" and width when both side-flaps are opened is 22"
Q: Is this pad waterproof?
A: Yes, it is waterproof
Q: Is changing pad removable?
A: Yes you can detach the changing pad with the help of zipper closure
Q: Was it easy to carry?
A: Yes it is