ENJOY BEACH TIME WITH YOUR BABY WITHOUT THE FEAR OF SUNBURNS!
If you are an outdoor enthusiast new mom and love spending time outdoors? Want to introduce beach to your baby but worrying about the environmental damages?


Spending time in the outdoors and enjoying nature may be a great pastime, but can be dangerous for babies as he/she may get sunburns. 

Putting layers upon layers of sunscreen on your baby, only to have them still get burned? Struggling with an umbrella at the beach? Does nothing work?
This kind of thing can't keep you cool and spoils your holiday. Don't worry! We are here to provide you with the best solution to enjoy outdoor time with your baby.
Just sit, relax, and have that peace in mind that you provided a safe place for your baby outdoors with this children's beach tent that is waterproof and made from UV protection cloth. 
A fun and simple way to protect your child from the sun while playing outside!
Key Features:
GREAT CRAFTSMANSHIP: The beach tent is made from high-quality polyester cloth which is waterproof and provides longer life than the usual tents available in the market
UV +50 PROTECTION: The tents are specially designed with a sun-blocking roof to protect your baby from harmful rays and an integral mat for your baby's comfort
PROPER VENTILATION: With the innovative ventilation design it is comfortable for a baby to stay in the tent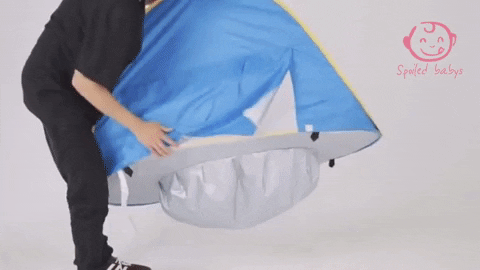 MINI POOL: It is designed with a mini pool at the bottom, where you can fill water and allow your baby to play in the water instead of going to the seaside, parents can have extra time to enjoy the beach trip.
VERSATILE: Suitable for both outdoor activities such as beach, pool time, picnic, backyard fun, or other water fun and indoor rest/playtime
QUICK OPENING: Thanks to its zipper design, it is so easy to open and close, you can set this up in minutes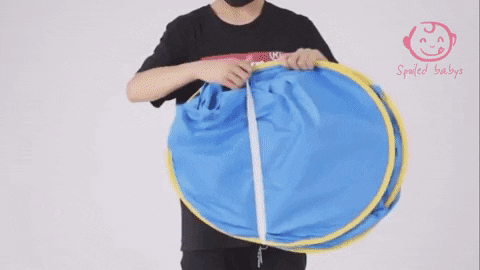 PORTABLE: Lightweight and foldable so it is easy to carry, have fun and create special moments anywhere anytime, it can even be carried on the plane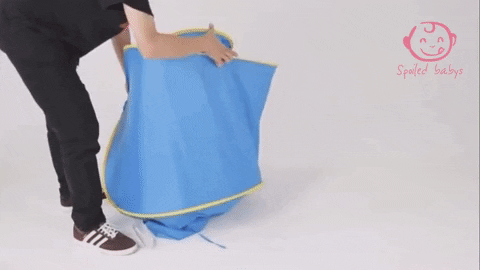 RECOMMENDED AGE: This waterproof polyester tent is suitable for kids above 6 months old to 6 years old
 Measurements
Details
Specification:
Material: Sunscreen polyester cloth
Suitable age: 6 months - 6 years old
Package Includes:
Frequently Asked Questions:
Q: Is this suitable for 4 years old kid
A: Yes, it is suitable from 6 months old to 6 years old
Q: Do this tent have an it-built pool?
A: Yes, it has an in-built round pool
Q: Does it provides proper protection from sun rays?
A: Of course, it protects your baby from sun rays as it is made from UV 50+ cloth
Precautions:
1. The product is far away from fire source and high heat power source to avoid burning.
2. There is a steel ring in this product, which will spring off quickly when used. Children need to use it under adult supervision and guidance.
3. The product cannot bear weight, please do not place heavy objects on the product. Please give up when the steel ring is exposed.
4. Please pack the packaging and accessories in time to avoid suffocation when children play.
Cozy, lightweight and easy to fold!
Wauw I love this beach tent. My child loves to play in this cozy tent. It's also really lightweight and super easy to fold.
Cozy, lightweight and easy to fold!
Wauw I love this beach tent. My child loves to play in this cozy tent. It's also really lightweight and super easy to fold.