Baby Floating Inflatable Water Mat
PROVIDE TUMMY SUPPORT FOR BABIES WITH THIS AMAZING WATER PAD TOY
Once babies learn to walk and run, they start exploring various outdoor activities, be it playing in the garden, planting flowers, or playing football.
However, one of the primary outdoor activities that toddlers love to an infinite extent is swimming in the pool and playing with water.
They kind of have an obsession with the water fun, and that's why they always sound so eager at the mention of water sports. 
But you can allow your kid to go in the pool every time they behave like stubborn people.
So, to satiate their desires and keep them busy for the course of the next few hours, we have brought forth an amazing product in the form of a flat baby water pad.
Unlike other toys, the water pad toy will allow your children to play both indoors and outdoors easily.  Made from high-quality material, the water pad toy is never going to disappoint you!
Key features:
PERFECT FOR THE TUMMIES: The inflatable water pad is mainly chosen by parents for helping their kids play on the floor on their tummies.
The softness of the toy will help your toddler to play mindlessly without bruising his stomach muscles and thighs.
WHY YOU NEED THIS MAT FOR YOUR BABY?: It provides various health benefits to your baby both physically and mentally, some of them are it prevents flat head shape, develops sensory, improves motor skills, and strengthens the neck muscles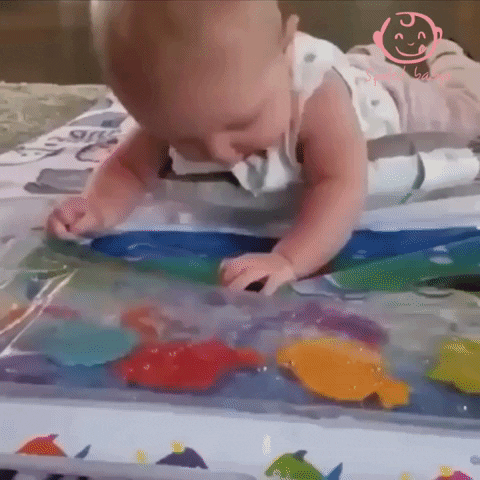 DOESN'T REQUIRE A PUMP FOR INFLATION: Simply fill water in the water pad toy, you don't need a pump to fill. Just open the lids, and place the toy under running tap water. It will again swell up as water, fill the hollow cavities.
DUAL WATER CHAMBER: If you take a look at the inflated version, you will find that the borders of the pad are separate from the central portion.
Now luckily, you will be able to fill water in both the parts - the border and the central pad and quickly close them with the lid.
PERFECT FOR INDOOR GAMES: When it comes to water games, one has to consider being outdoors rather than inside the house. But you can't take your toddler outside if he is planning to play with water during the evening time.
For such scenarios, you can use the water pad and allow your child to fulfill his desire of having fun with water and bottle animals.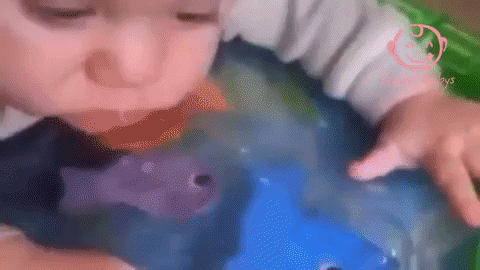 EASY STORAGE: Simply drain the water from the compartments, hanging upside down for half an hour, allow the water to get dried up completely, fold it neatly, and then take it away in your closet without any hustle when not in use.
Store the water pad very easily and without occupying a lot of space like other toys.
Instruction
Measurements
Specifications:
For who: babies of six months of age to twenty-four months

Material: durable plastic
Package includes:
1 x Baby Floating Inflatable Water Mat
Frequently asked questions
Q: Will the water pad crash under my baby's weight?
A: no, the water pad toy won't crush even if your baby is jumping at the center of the toy.
Q: Can I take the water pad if I am traveling with my baby?
A: yes, you can easily carry this water pad toy to any place you are traveling. Just drain out all the water and dry out the interiors. Fold it into two to three halves as per your convenience and then keep it in your suitcase.
Favorite toy of my baby
My baby is having so much fun with this toy. Definitely his al time favorite! The quality is really good, because we never had any leaking problems!
Favorite toy of my baby
My baby is having so much fun with this toy. Definitely his al time favorite! The quality is really good, because we never had any leaking problems!