Baby Folding & Portable Crib Bag
START CARRYING EVERYTHING INCLUDING A CRIB WITH A SIMPLE MUMMY DIAPER BACKPACK
When you are traveling with your baby, you can't provide all the comfort and facilities to your newborn, be it a proper feeding arrangement or the care. However, that one thing which babies miss the most at the time of outings is their crib.

The small bed that they have back at home is like their haven, a place where they can sleep comfortably without anyone's disturbances. Now, we have mothers trying to put their babies to sleep by various techniques like singing lullabies, swaddling, cuddling, and so on.
However, none of these techniques will make your baby feel safe like a crib and allow you to rest without worrying about jostling up the baby.

For this reason, we will introduce you to one of the most amazing inventions for mothers- the mummy auto-folding crib backpack.
You can extend the backpack to form a long crib where you can keep your baby once you have put him to sleep. Along with this, the bag comes with various pockets and compartments, which will help you to carry a lot of baby accessories without much effort. 
Key features:
WATERPROOF BAG: The fabric used in the manufacturing of the bag is waterproof in nature. As a result, even if you are wearing the backpack during rains, the inside compartments won't be damaged along with other things present inside the bag.
COMPARTMENT FOR THREE BOTTLES: At the front of the bag there is a large compartment pocket where you can keep three bottles for your baby, each in their separate compartment.
You can keep the maximum available bottle size since the pockets are made large enough for versatile bottles. 
Zip open the front pocket and you'll find 3 elastic-topped pockets sized perfectly for baby bottles. Each one is lined with foil-finished insulated fabric to keep bottles, jars of baby food either hot or cold
GUARDED CRIB EXTENSION: Some parents fear that once they will extend the bag, it will reveal a borderless crib with no side guards. Well, such an arrangement is dangerous and unsafe for the baby.
For this reason, we have made sure that the crib is guarded on both sides which will keep your baby perfectly safe.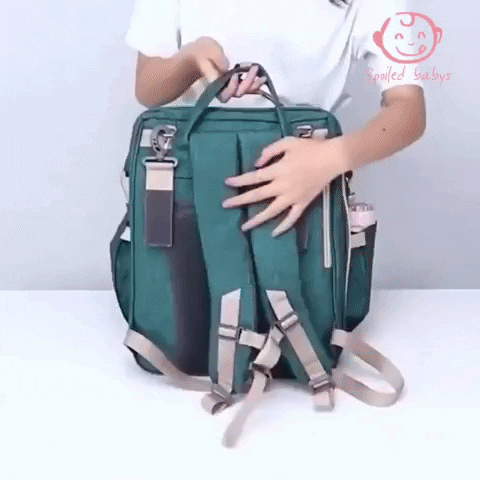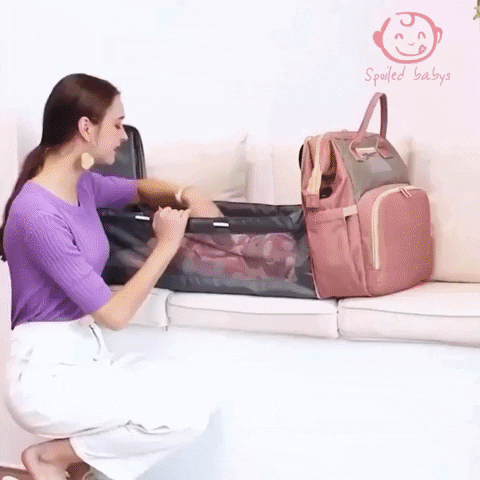 AUTOMATIC FOLDING TECHNIQUE: There is an automatic folding technique which will help you to fold the crib once you are done with your baby's nap.
Just pick your baby from the crib and press the folding button. The crib will be folded on its own in a proper method without any manual input.
CONTAINS SPECIAL DIAPER COMPARTMENT: There is a special diaper compartment in the bag where you can carry a lot of diapers for your newborn. So, the next time you will go out, you won't have to worry about carrying lots of excess bags for diapers.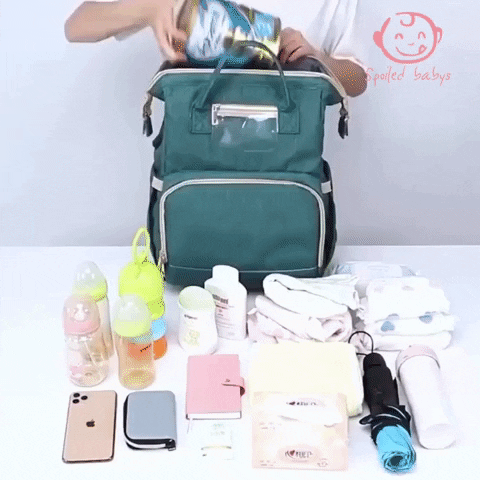 USB PORT: Put your power bank inside the bag and connect your cellphone through our extra USB charging port, enjoy the convenience.
USB connection port
Measurements
Specification:
For who: parents
Material:

cationic fabric, PVC waterproof, pure cotton lining, aluminum foil insulation cotton

Waterproof degree: water repellent
Fabric texture: oxford
Capacity: 20-35L
Package includes:
1 x Baby Folding & Portable Crib Bag
Frequently asked questions:
Q: Can I carry the bag with by baby stroller cart?
A: Yes, there is a special attaching strap for the strollers so that you can hang the bag from the handle.
Q: Will it pain my shoulders if I'm carrying the backpack on my back?
A: The shoulder straps present in the bag are filled with excess sponge which will help you to deal with the pressure of the bag.