Baby Fruit and Veggies Pacifier
FEED YOUR BABY WITH THESE FEEDER NIPPLES AND SOOTHE THEM
Babies will often take fresh fruit from the basket and try to eat it just by replicating you. You will also see that babies above one year of age usually sneak out a piece of vegetables from the basket and try to chew it.
Even though these actions are pretty cute, you can't allow your child to eat something when they don't have healthy teeth. 
So, rather than giving them a fresh strawberry to get them to stop crying, you can use the fruit or the vegetable in a more productive manner. The product we launched will help you a lot in silencing your baby's cries and feeding them a fruit slice or a vegetable piece. 
These silicone nipples are incredibly light and helpful for parents who have become frustrated after using normal pacifier nipples. With this pacifier, you will be able to put your baby to sleep easily without much effort.  
Key Features
COMPLETELY SAFE FOR BABIES: Often, when parents buy chewable toys, they fear the chemicals and other dangers that can harm them. Usually, chewable toys result in diarrhea, stomach aches, vomiting, and so on.
But our product will not harm your kid. FDA approves the material, and hence, no dangerous chemical is present. It is safe for your kid, no matter what his age is.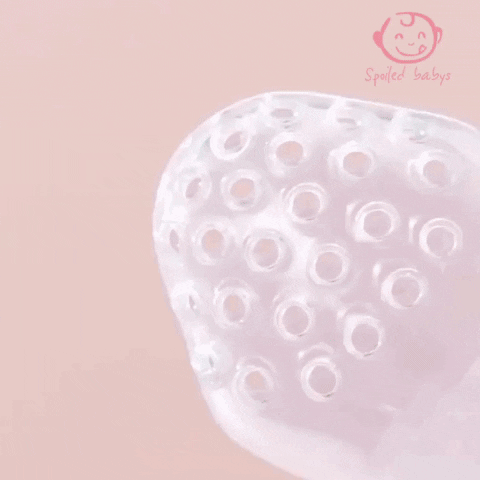 STURDY SILICONE: The silicone used in the manufacturing of these nipples is quite sturdy and tough. Hence, even if your kid is chewing it hard, no tear will develop in the nipple bulb. As a result, the product will last longer.
Also, since no tear will develop in the silicone body, there will be no danger of your kid swallowing some fragments.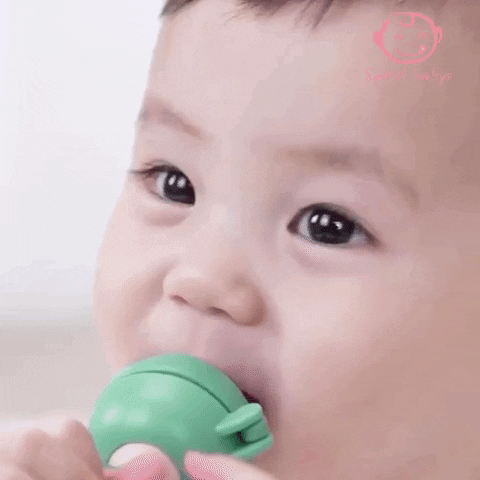 REUSABLE: You don't have to throw this nipple away once it is covered with the food mess and your baby's saliva. The silicone bulb can be washed, and then after sterilizing it properly, you will be able to use it again as a pacifier for your baby. 
AVAILABLE IN DIFFERENT COLORS: The package of nipple feeders is available in different colors. This way, you will be able to easily match the fruit and the nipple feeder because your baby does not like the arrangement. 
Note: Due to the difference between different monitors, the pictures may not reflect the actual color of the item.
VARIED SIZES FOR DIFFERENT AGE GROUPS: There are three different nipple sizes specific to the age of the baby. For example, the large feeding nipple is for more than fifteen months for babies, while the smallest one is for babies between three to six months. 
Size chart
| | | |
| --- | --- | --- |
|  Size | Age Range | Measurements |
| S | 3 - 6 months | 39 * 33 mm |
| M | 6 - 10 months | 40 * 33 mm |
| L | 10 - 15 months | 43 * 33 mm |
Measurements
Note: Please allow slight difference due to manual measurement (Due to the difference between different monitors.
Specifications: 
Material: Polypropylene  + Liquid Silicone
Suitable age: 3 - 15 months
Package includes 
1 x Silicone Baby Nipple Feeder
Frequently asked questions 
Q: Can I give the nipple feeder to my baby after he gets his teeth? 
A: Yes, you can easily use the feeder to soothe crying babies even after their teeth come out.  
Q: Will the silicon be destroyed if I am using hot water for cleaning it? 
A: When you want to sterilize the silicone nipple feeders, you will have to use lukewarm water.