Baby Harness Walking Assistant
BUILD CONFIDENCE FOR YOUR BABIES TO LEARN WALKING WITH THIS BELT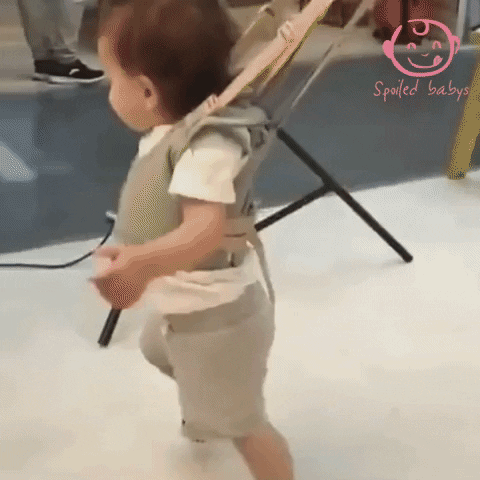 Is your baby standing up on his/her own? Next is they will try to walk, at that time if you don't have any walking helper for the baby, you have to bend over to help them.
And a long time bending back will make you feel sore back. But with this baby walking harness, you won't have such questions!
The walking helper builds a sense of stand and walking for the baby during the toddler period. It allows your baby to keep balances, stand more naturally with hands-free while promoting correct body posture, and ensuring safety.
Therefore, your baby will have a good sense of balance and learning walking so fast with this walker leash.
With this harness walker, your baby gains a sense of freedom and control and so builds confidence to take steps forward without accidental falls!
Share this baby harness walking assistant as a gift with your friends and family member who have toddlers at home. Let them also have peace of mind!  
Key Features:
COMFY MATERIAL: The harness is made from thicker soft cotton material for handle and shoulder straps that is breathable and provides enough comfort for you and your child.
ERGONOMICALLY DESIGNED: The belt is designed considering the toddler's comfort in mind, it provides back and shoulder support to protect the baby spine from being hurt, helps to correct the body and walking posture, and lets your baby learn to walk on their own.
ADJUSTABLE STRAPS: The straps and safety buckles are adjustable, which makes your baby feel comfortable and relaxed
BENEFITS: The belt reduces the number and severity of falls of your baby and Reduces back strain for parent
FOR ALL SEASONS: This harness can be used in all seasons, especially in summer, baby will not feel hot and irritable, thanks to its soft fabric!
AGE RECOMMENDATIONS: Our baby walker leash is suitable for 8 months to 18 months old babies
MULTIPLE COLORS: It is available in different colors such as pink, yellow, blue, red and navy peacoat, choose that excites your baby
Measurements
  Specification:
Adjustable chest circumference: 40cm to 60cm
Suitable Age: 8 to 18 months

Load Bearing:20kg
Package Includes:
1 x Baby Harness Walking Assistant
Instructions:
Fasten the safety buckle on the back of the harness walker and tighten the strap as snugly as possible for proper support
The vest should be tightened so it does not easily ride up on the child
After fastening the vest, hold the handle straps securely while allowing your child to balance and confidently practice walking.
Note: Parents should always hold the handles with two hands.
Frequently Asked Questions:
Q: What is the chest circumference of this product
A: It is adjustable from 40 cm to 60 cm
Q: How long are the straps?
A: Walking straps are adjustable so the length varies from 47 to 60 cm.
Q: What age range is it suitable for?
A: Babies of 8 months old to 18 months old
Q: Are the straps adjustable?
A: Yes, the straps are adjustable