Baby Security Bath Seat Support
ENJOY THE NEXT BATHING SESSION OF YOUR BABY WITH THIS CROSS BATH NET 
Bathing the newborns is easy since all you need to do is take a wipe cloth, a bucket of lukewarm water, and then rub the cloth over the skin softly.
However, once your baby crosses the age threshold of five to six months, you need to change your bathing techniques and pour water over his head to wash him regularly.
Also, after a certain period, your doctor will suggest you to use baby body washes and shampoo to maintain hygiene.
Now, using the normal bathtub is certainly out of the option and you can keep your kid standing for too long while bathing him.
So, the next to perfect solution for baby bathing will be in the form of this particular product - a baby bathtub with a mesh net for keeping your kid in place.
It's a small, cute baby bathtub with a meshed seat which has helped many parents to wash their babies properly without any hassle.
Key Features
COMFORTABLE NET MESH: The net mesh is used to keep your child in position. It is in a cross shape, with two larger holes at one end separated by a thin patch.
When you will put your baby inside the bathtub, you have to make sure that the legs are put inside the two holes and the baby seats on the thick net mesh patch.
At the other end, there is a separate net for protecting your baby's head in case he leans backward while bathing. It's perfect for oil massages since you can lay down your baby while locking the legs in the lower compartments.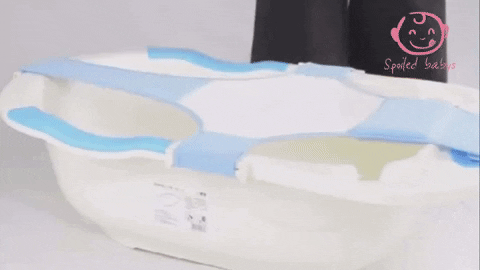 ADJUSTABLE IN NATURE: The tightness of the net seat can be adjusted using the four straps present along the four sides of the bathtub. So, now, you can change the seat's length and surface area as per your baby's body shape.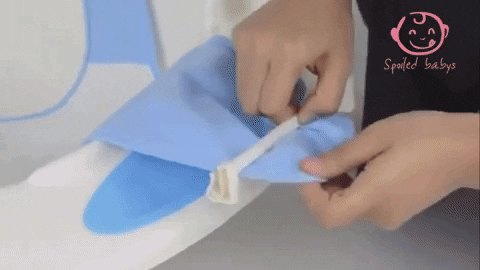 Details
Measurements
Note: 1 inch = 2.54 cm
Package Includes
1 x Bath Mesh Net Support (no bath)
Specifications
For who: babies of three months to one and a half years old
Material: nylon, cotton, and polyester net 
Frequently Asked Questions
Q: Are the straps adjustable?
A: Yes, you can easily adjust the tightness of the bath net by fixing the four straps on the four sides.