TOO CUTE TO HANDLE BT21 CHARACTERS TOYS
Are you a fan of BT21 characters from the BTS show? Want to have your favorite BT21 character as a plush pillow? BTS Lovers, this is for you! Now you can take KOYA, RJ, SHOOKY, MANG, CHIMMY, TATA, COOKY, and VAN as huggable soft plush toys on all your adventures!

Planning to add something cute and funny toys to your boring room?  Looking for something that excites and engages your child while promoting their imagination and creativity?
We got your covered! This BT21 character plush with cute structure is a great addition to anywhere in your home and it is that one perfect toy that keeps your baby entertained for hours.
This plush toy not just adds cuteness to your room but it is also a good companion when watching a movie or reading a book and cuddling toy for hugs while sleeping, during leisure time as it is so soft to touch and snuggle.
A must-have plush toy for the BTS show fans! Grab one for yourself and your friends who are also a BTS fan!
Key Features:
SOFT PLUSH STUFFED TOY: The BTS toys are expertly crafted using top quality PP cotton and short plush for durability and ultimate softness

8 CHARACTERS FROM BTS: You can select your favorite characters such as TATA, KOYA, SHOOKY, RJ, CHIMMY, MANG, COOKY, VAN, or if you a fan of all the character you can buy them all
DESIGN DETAILS: Each plush toy is designed with the exact face and body details of the character, to make it realistic and adorable
CHARACTERISTICS OF EACH TOY: TATA is a crown prince on Planet BT with supernatural powers and a hyper-elastic body that stretches to great lengths, CHIMMY wears a signature yellow hoodie and is compelled to work hard,
KOYA is smart, multi-talented but looks sleepy while thinking deeply, COOKY is full of heart and boundless stamina with pinkish tough bunny appearance, VAN is a space robot and protector of BTS,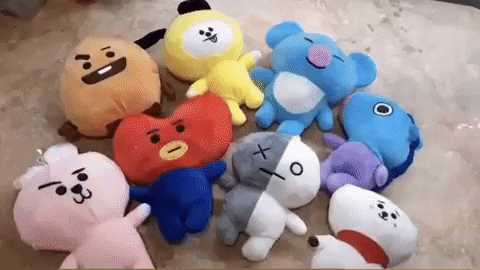 SHOOKY is a magic cookie with special powers and hates milk, MANG is cool while dancing, always wears masks, and RJ loves cooking and eating, it is fluffy and cute
SUITS ANYWHERE:  Great for bedroom, living room, office, etc. to help you relax anywhere and offer a quick touch up to your surroundings
PERFECT GIFT IDEA: Makes a wonderful gift for your friend and family members who is a fan of BTS on any special occasions
Specification:
Package Includes:
1 x Bulletproof Youth Group Plush Doll 
Frequently Asked Questions:
Q: Is it big or is it small??
A: You can refer to the product image to know the size
Q: What is the filling material of this toy?
A: It is filled with soft PP Cotton
Q: What age range is it suitable for?
A: People of all ages can have this plush toy
Q: Is Mang is available?
A: Yes, all the 8 characters from BTS is available for sale