Eco Diaper Training Skirt
POTTY TRAINING MADE EASIER WITH COTTON WATERPROOF BABY DIAPER SKIRT
One of the main concerns of the new parents revolves around the entire potty training procedure.
Once the baby crosses the threshold of twelve months, most of the pediatricians suggest starting training the infants for potty procedures so that one won't have to deal with any messes all the time.
Also, with proper training, you won't be exposing your toddler to infections and unhygienic situations created with poops all over the cot and the sheets.

But, potty training is not as easy as it sounds. Many couples have faced several problems at the time of training their kids as they usually hate wearing diapers during sleep due to the harshness of the material and the restrictions on their skin.
So, to avoid such situations, you have this impeccable potty training, high-waist, cotton diaper skirt for your baby.
This product is known for its excellent functionality and its comfort to an infant or a toddler's soft skin. With this training skirt, you would never have to deal with messes again. 
Your toddler can roll and kick at will, because this diaper training skirt has 360 ° protection.  Anti-side-exposing can easily cope with all kinds of postures of the baby, without leaking a drop.
Key features: 
HIGH-WAIST ELASTIC BAND: The skirts are high-waist, which will make it more comfortable for the baby, especially at night.
Normal diapers usually sit along the low waistline, which has unfortunately proven to be uncomfortable for babies. However, with these skirts, you can provide the ultimate comfort to the infants.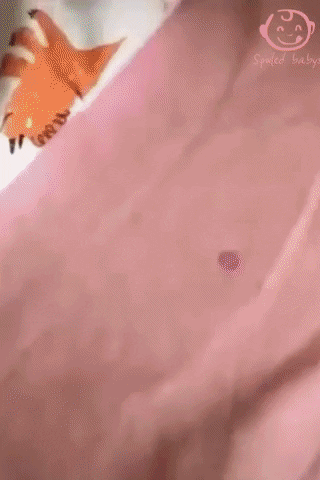 LIGHT AND AIRY FEEL: The skirt diapers are extremely light, and that's the reason why many parents prefer this product for the nighttime.

The lower hemline of the skirt is quite huge which gives a light and airy feel to the skirt, thereby giving enough space to your baby to move around, throw their legs during sleep or turn over without any restrictions.
LOOSE-FITTING FOR COMFORT: Unlike normal pants, this diaper is extremely loose. As a result, your baby won't have to feel restricted during their sleep. Hence, they wouldn't open the skirt diaper during nights due to discomfort and restrictions.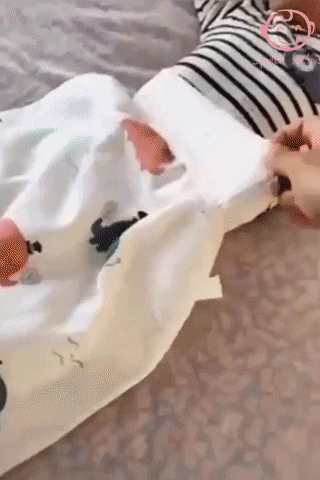 Also, the loose-fitting will allow the baby's skin to breathe and so there will be no incidents of rashes or angry red marks. 
Skin-friendly material: The material consist of bamboo fiber lining, which is skin-friendly and breathable.
The boneless stitching process has led to a comfortable and smooth material which doesn't harm the baby's skin. It also has good moisture absorption, heat dispersion and good air permeability. 
INVISIBLE BUTTON: There is a button in the lower hemline, on the inner side which will help you to fix the skirt so that it won't rise during their sleep.
Once you will fix the button, the skirt will become like a pant, which will help in the free movements of your baby.When the legs are split it prevents the urine insulation skirt from shifting and leakage.
PERFECT ABSORBENT INNER LINING: The inner surface of the skirt has a waterproof lining which will prevent leakage.
Also, the material is highly absorbent and hence, even if your child will pee during sleep, it won't leak out of the skirt onto the sheets.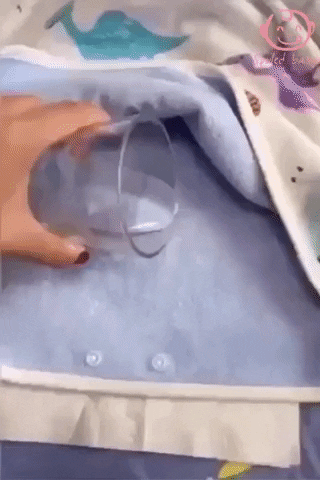 Three-layer protective leak proof
Measurements
Note:
Size M is suitable for 0-4 years
Size L is suitable for 4-8 years

Machine  washable
 Package includes: 
1 x Baby Diaper Training Skirts
Specifications:
Material: cotton + TPU waterproof membrane + bamboo fiber

Age Range: 0 - 8 years old
Frequently asked questions:
Q: Is it easy to use during traveling? 
A: Yes, the baby diaper skirt is too light and hence portable. You can put this on your baby during road trips or any other type of travel. 
Q: Is the elastic waistband of free size?
A: The elastic waistband in this product is highly stretchable, and hence you can easily adjust the size according to your baby's waist.  

Q: Do I need a diaper along with the skirt? 
A: No, you don't have to put on any diaper on your baby since the product's inner lining will act as a perfect absorbent.