Harpers' Matching Building Blocks
TEACH YOUR TODDLER ABOUT THE MATHEMATICAL OPERATION WITH THIS LOGARITHMIC BOARD
With the introduction of a variety of educational toys, it has become possible for parents to provide basic education to their kids from an early age. Since a baby's brain needs both cognitive and psychological development, pediatricians and child psychologists always suggest using toys to teach the kids.
Moreover, you will be able to provide a logical explanation about the knowledge by using the toys as they improve the visual understanding and perception.
One such amazing educational toy is the logarithmic play board. It comes with everything which you need to teach your baby about the basic subtraction and addition rules, and how the numbers behave during these two operations.
Since these two operations are the basics of mathematics, having this product at your home will help you a lot.
Key features:
PERFECT FOR VISIONARY EDUCATION: Since parents spend a lot of time in providing the perfect education to their kids, it's important to teach smartly. And luckily, we have come forth with the best tool which will help you to teach your kid through visual interactions.
Since they will see the numbers, the number of rings to be placed, the dice marks, and everything else, they will be able to remember better.
HIGH-QUALITY AND DURABLE MATERIAL: The entire logarithmic board and the elements are made from high-quality wooden and rubber material. So, even if your kid is playing all day with this toy, you won't have to worry about buying a new piece once every couple of months.
SELF-LEARNING BOARD: Once you finish teaching your kid about the basic numbers, you can use this board for self-development.
Rather than explaining the rules by yourself, you can allow your kid to do the experiments by himself and understand the reason. This will improve both his logical and cognitive parts of learning.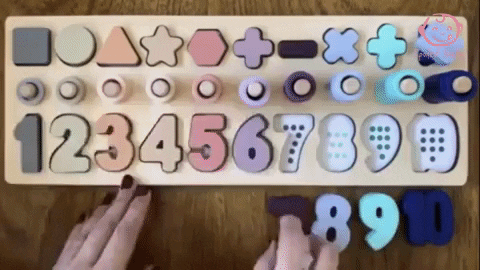 WONDERFUL LOGARITHMIC AND ABACUS TOOL: Not only this educational toy is a perfect logarithmic board but also an abacus tool. So, you will be able to teach your child about mathematical operations using two different but effective approaches.
With this board game, you won't have to book abacus classes for your child. All have to do is interacting with your kid and make him understand both the methods.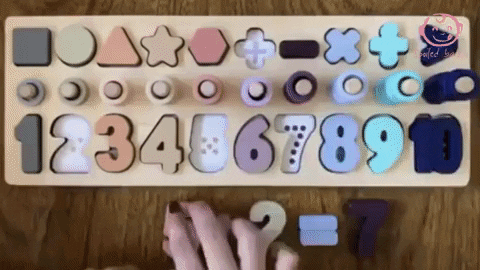 ECO-FRIENDLY PRODUCT: Often toddlers put everything in their mouths with which they usually play. So, that they will even put these toy pieces in their mouth at the time of learning. This is why we have made sure that the pieces are eco-friendly and wouldn't cause harm to your child. 
Measurements
Package includes:
1 x Wooden logarithmic board with addition and subtraction numbers
Specifications:
Texture: Wooden
Science and education toy type: 3-in-1 digital shape logarithmic board
Suitable age: Children (4-6 years)
Measurements: 39.5 x 15 x 7 cm / 15,55 x 5,91 x 2,76 in
Frequently asked questions
Q: Can I carry this educational toy with myself while going on a tour?
A: Yes, you can easily put this board in your luggage and keep your kid engaged during the vacation.
Q: Will I need to provide any kind of prior knowledge to my kid?
A: It will be easier for you to make your child understand if you are giving them knowledge about numbers.
Learn And Play
This Product is perfect for learning and playing my baby loves it
Learn And Play
This Product is perfect for learning and playing my baby loves it