A PERFECT POTTY TRAINING ACCESSORY: THE ARMREST TOILET SEAT LADDER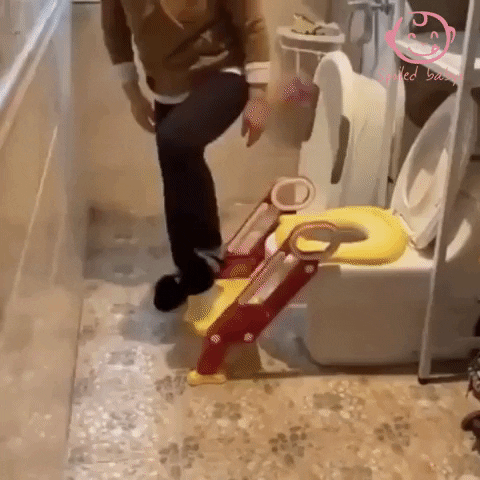 When you are training your toddler for pooping properly, you have to face a lot of hurdles. Starting with the proper climbing up to the toilet to sit in a balanced way on the top, a parent has to consider many things at the time of potty training.
However, there are certain areas where you think that training them is impossible, like making them learn how to seat on a toilet seat properly.
Surveys have shown that most parents are facing hurdles in teaching their toddlers about climbing the toilet seat and sitting on it without falling. So, for easing your tensions, we will provide you a brief explanation of one of the incredible baby accessories that you should have- a potty trainer ladder with a toilet seat and double armrests.
This product might seem to be irrelevant to some parents, especially for those who think that there is no need for a ladder when they are present for helping the kid.
But, before you conclude, sit tight and think- what will you do when your kid has to urgently go to the toilet and you are busy somewhere else? So, to avoid such circumstances, you need this product at your home and that too at the earliest.
Key features:
SAVES SPACE: One of the main features of this toilet seat ladder is its space-saving nature. Once your kid will be done with his daily routine, clean the ladder, fold it and then tuck it away somewhere else. This way you can even use this baby accessory in a small bathroom.
NON-SLIP TECHNOLOGY: Many parents have raised their concerns regarding the slipping nature of the ladders saying that once their kid tried to climb the stair, the ladder slipped.
However, this particular product has rubber suction pads attached to the legs. The moment you will place them on the floor, the suction pads will get attached to the surface, thereby preventing the slips.
DURABLE: If you think that repeated use of the ladder will leave it broken or withered, you are highly delusional. The product is made from high-quality polypropylene which will help you to use this ladder for a long time without worry about its integrity.
ADJUSTABLE HEIGHT: The height of the step is adjustable. Since kids are never of the same height, parents usually find it a bit problematic at the time of using a toilet ladder. But, with this product, you can adjust the height of the step as per your baby's convenience.
Instructions
Package includes:
1 x Toilet Seat Ladder for Babies
Specification:
Material: polypropylene and ABS
Frequently asked questions
Q: Can I use this ladder for any kind of toilet seat?
A: This toilet seat ladder for babies is extremely versatile and hence, you will be able to use it for both short and long toilets.
Q: What is the use of the armrests in the ladder?
A: With the help of the armrests, your baby will be able to sit comfortably while maintaining the balance simultaneously.