PROTECT YOUR NEWBORN FROM TRAUMA ACCIDENTS WITH THESE SIDE PILLOWS
Even though the baby cots have a high railing on all four sides, every parent must ensure their newborns and infants' full protection. It's not just about the time when you were putting your baby to sleep in his cot.
When mothers leave their child on the bed unprotected just to fetch that bag, the baby can turn over and fall on the ground. Such accidents leave considerable trauma and can cause serious problems. 
For this reason, you need to look for the best protective method, which will allow them to sleep sideways without rolling over towards the age of the bed or couch. Several products are there that can be classified in the category of side pillows. Today, we will discuss only this soft, anti-roll side pillow for heavy sleepers.  
Key features:
SOFT AND AIRY MATERIAL: Both the pillow cover and the pillow filling material are delicate, which provides maximum comfort for the newborns and the infants.
Believe it or not, babies are the best detector of comfort, and that's why if you are giving them something having a hard surface, they will start wailing at the top of their voice.
For this reason, the manufacturer has ensured that the entire pillow is super soft and has a cushion feeling. Also, the material allows the skin to breathe, thereby reducing the chances of allergic eruptions. 
Breathable and safe
Comfortable & Soft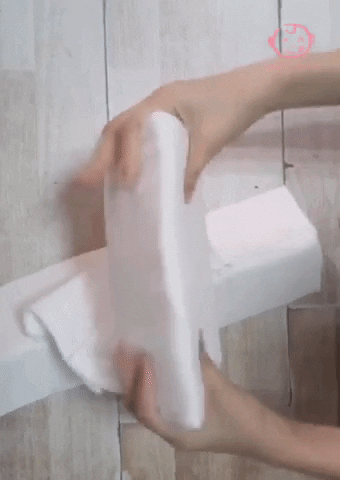 PERFECT FOR NEWBORNS AND INFANTS: Starting from the newborns, you can use this pillow to protect your baby up to 6 months. So, the product is a great relief for new mothers struggling to put their babies to sleep without being paranoid. 
Adjustable for 0-6 months
ADJUSTABLE LENGTH: There is a long Velcro tape on which the two side pillows are attached. You can slowly separate the cushions from the tape and place it in a new position as per your baby's sleeping style. This adjustable mechanism has made the product one of the most preferred sleeping accessories by new parents.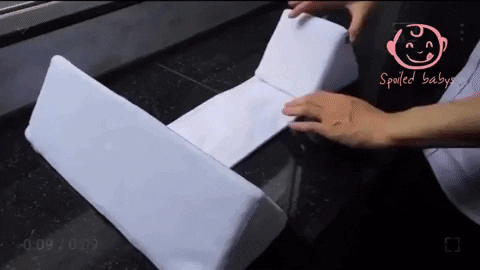 SHOCK-ABSORBING MATERIAL: The pillow feeling of a material that can observe the shocks without becoming flattened. So, even if your baby is trying to roll over, he won't be able to cross the pillow boundary. 
WASHABLE PILLOW COVERS: There are hidden zippers in the side pillows, which will allow you to separate the cover from the pillow material and then wash it to make them clean.
TRIANGULAR PILLOW SHAPES FOR MAXIMUM PROTECTION: Unlike other baby pillows, this product has triangular-shaped side pillows, which will provide maximum space for the free turning around of your baby during his sleep. As a result, he wouldn't face any kind of restriction.

Measurements
Package includes 
1 x Baby Side Sleeping Pillow
Specifications 
Pillow fabric: Polyester cotton
Pillow weight: 0-1 kg
Pillow filling: Sponge
Frequently asked questions 
Q: Can I use the pad in the cot? 
A: Even though the baby beds have superior protection, you can add this anti-roll pillow set for your peace of mind.
Q: How often will I have to clean the pillow covers?
A: Your frequency of cleaning the pillow covers depends on how fast the pad is losing its natural color.